We Create Real World Visuals
Any company or brand that desires to have influence and staying power in today's marketplace must consider what their "Digital Footprint" says about them.  In this new era of virtual marketing, any company or brand must provide a superior digital existence than its competition to survive. To do this, a company or brand's marketing strategy must contain an arsenal of social media publications, keyword analytics, chat bots, back-links, etc. just to stay relevant.
However… to truly be successful in today's marketplace, companies and brands must battle a war on two fronts… one with in the virtual world and one within the real world.  In the real world, companies and brands need a strong ally to replicate the visual experience they created for their clients and fan base in the virtual one.
Enter Paramount… from its early days in 2005, as a small North Atlanta print production studio, the co-founders of Paramount, Bruce Campanelli & Ken Bogart, made it a priority to have Paramount stay up-to-date within the always advancing digital print industry.  That is why Paramount has always provided their clients with the absolute latest in wide and grand format printing technologies, visual marketing products and advanced fabrication and custom finishing solutions.
Featured Work
A glimpse into what experience, design thinking methodology and great client relationships can produce.
We were honored this past February to have been a part of ... ATLANTA UNITED's GOLDEN ERA Celebration!
.
How does Atlanta's top MLS soccer team reveal their new away uniform?
They throw a party "Fit For A King!". Atlanta United revealed its new away kit, officially named The King's Kit. The event was held on February 6th & 7th at 330 Terminus in Atlanta and once again, the promotional team for Atlanta United included Paramount Graphics for the making of this amazing party!
Paramount Graphics is no stranger to creating visual graphic solutions for Atlanta's top professional sports teams, and this event was no different.
Unlike the massive field banners that we made for Atlanta United, and are displayed during all their home games, we knew this show wasn't going to be seen from the "cheap seats" (if you can call them that) of the Mercedes Benz Stadium.
Everything going on display for the team and their fans during this event, was going to be very "up-close & personal". So, everything that we printed and fabricated for this event was focused on the viewer's proximity to the objects. We knew people were going to be standing near, touching, and/or taking selfies with our creations.
Just as distinct as Atlanta United FC, our productions are one of a kind, there by holding true to what the core of this incredible team at Paramount is all about.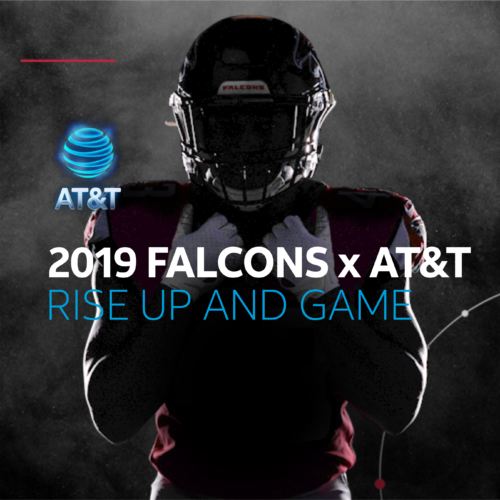 During the Fall of 2019, AT&T hosted 'Rise Up and Game', a two-game tournament for local Atlanta gamers. The free-to-play tournament, presented by AT&T, in partnership with the Atlanta Falcons, allowed participants to play in video game titles Madden NFL 20, and Injustice 2.
The Madden NFL 20 tournament took place on October 15, and the 'Fight or Flight' Injustice 2 tournament was held on October 22.
The finalists from the two dates got invited to compete in the grand finale which was held at the Mercedes Benz Stadium on November 6.
Paramount Graphics was asked to join in the build-out of both events. Much like the Atlanta United event that was held at Terminus 330. We knew people were going to be standing near, touching, and/or taking selfies with our creations so attention to detail was a must.
AFROPUNK'S CARNIVAL OF CONSCIOUSNESS...
returned to Atlanta at 787 Windsor for the fourth year on October 12th and 13th and Paramount Graphics was included in the creation of this ground breaking music festival!
This year's theme was #AFROPUNKWESEEYOU, Afropunk created a special environment for a festival with a diverse lineup on the first real fall weekend of the year in Atlanta.